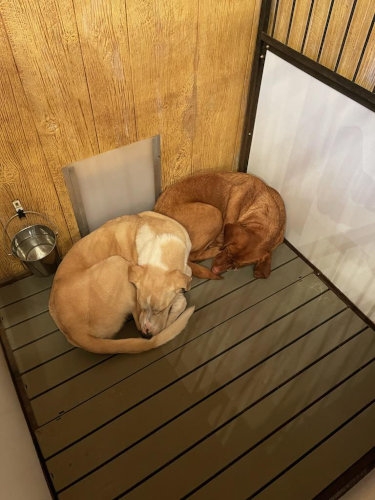 RATES/HOURS
We accept CASH & CHECK only
DROP-OFF & PICK-UP IS BY APPOINTMENT
A FEE OF $10.00 IS ADDED TO THE BILL IF EARLY OR LATE.
PLEASE remember and respect the drop-off & pick-up time just as any other appointment; Dentist, Primary Physician, Pediatrician, dinner reservation...
Closed During Lunch/Reopen at 2pm
BATHS
are available upon request. Ideal for the day of departure.
CLOSED SUNDAY FOR DROP-OFF & PICK-UP
Sunday is our day of rest; Hebrews 4:9-11
There remains, then, a Sabbath-rest for the people of God; for anyone who enters God's rest also rests from their works, just as God did from his. Let us, therefore, make every effort to enter that rest, so that no one will perish by following their example of disobedience.
DOG BOARDING RATES
PRICE INCLUDES PLAYTIME - NO HIDDEN FEES
* Single Guest $35 per night
* Double Occupancy $45 per night (Within same kennel)
* Triple Occupancy $60 per night (Within same kennel)
Check-out time is 10am. Pick-up after 10am is considered another day. There is a kennel charge for that day.
Example: Drop-Off Saturday (am or pm) and Pick-Up Monday 9-10am is a two day stay. Pick-Up between 4-5pm would be three days.
---
DOGGIE DAYCARE

OPEN FOR DAYCARE
MON * TUES * WED * THUR * FRI - 6:30am to 5:30pm
Drop-Off and Pick-Up hours are flexible for daycare
DOGGIE DAYCARE RATES
Full Day (single dog) $25
Full Day (two dogs-same family) $35
THREE DAYS Within Same Week:
Single Dog $65
Two Dogs $80
M-F / 4-5 Days - Single Dog -- $80
M-F / 4-5 Days - Two Dogs -- $120
Sunday Pick-Up 4-5pm ONLY -- $10 Fee
---
LONG TERM BOARDING AVAILABLE
CLOSED FOR DROP-OFF AND PICK-UP ON FOLLOWING HOLIDAYS:

THANKSGIVING - CHRISTMAS EVE - CHRISTMAS - EASTER - JULY 4TH - LABOR DAY - MEMORIAL DAY - NEW YEAR'S DAY - JUNE 16th

GIFT CERTIFICATES AVAILABLE