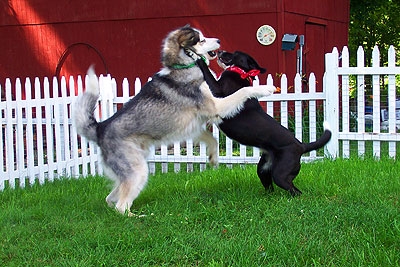 RATES/HOURS
We accept CASH & CHECK only
DROP-OFF & PICK-UP IS BY APPOINTMENT
A FEE OF $10.00 IS ADDED TO THE BILL IF EARLY OR LATE.
PLEASE remember and respect the drop-off & pick-up time just as any other appointment; Dentist, Primary Physician, Pediatrician, dinner reservation...
BATHS
are available upon request. Ideal for the day of departure.
CLOSED SUNDAY FOR DROP-OFF & PICK-UP
Drop-Off & Pick-Up times: MON THRU SATURDAY 9-10am and 4-5pm
DOG BOARDING RATES
PRICE INCLUDES PLAYTIME
* Single Guest $26 per night
* Double Occupancy $40 per night (Within same kennel)
* Triple Occupancy $46 per night (Within same kennel)
$2.00 FEE Per day for administering medication and/or vitamins.
Check-out time is 10am. Pick-up after 10am is considered another day. There is a kennel charge for that day.
Example: Drop-Off Saturday (am or pm) and Pick-Up Monday 9-10am is a two day stay. Pick-Up between 4-5pm would be three days.
DOGGIE DAYCARE

OPEN FOR DAYCARE
MON * TUES * WED * THUR * FRI 7am to 6pm
Drop-Off and Pick-Up hours are flexible for daycare
DOGGIE DAYCARE RATES
Half Day (up to 5 hours) $12
Full Day (single dog) $20
Full Day (two dogs-same family) $30
Daycare Discount: 2 days or more within same week and get 1 FREE
LONG TERM BOARDING AVAILABLE
CLOSED FOR DROP-OFF AND PICK-UP ON FOLLOWING HOLIDAYS:

THANKSGIVING - CHRISTMAS EVE - CHRISTMAS - EASTER - JULY 4TH - LABOR DAY - MEMORIAL DAY - NEW YEAR'S EVE - NEW YEAR'S DAY - JUNE 16th

GIFT CERTIFICATES AVAILABLE